Who We Are and What We Do?
EDS offers"bespoke communications" services that
Our clients' Target Audiences for Enhanced Business Performance.
Execution from Strategy and Planning to Implementation and Review.
Our Public Relations campaigns shine the light of mainstream media coverage on our clients' brands, products and services. Helping them reach millions of potential new customers.
Every day we supply the UAE media with content which also conveys the key messages of our clients and often includes hyperlinks direct to client websites.
Working closely with the national media on a daily basis since 2007 means we have developed very close relationships with journalists across the media landscape which our clients are able to benefit from.
Clients also find that a well-stocked what the press say web page delivers long term credibility and aids conversion rates.
Our digital PR campaigns have the added benefits of huge SEO value from Google friendly media hyperlinks into our clients' websites. A single link from a mainstream news site can deliver a huge amount of traffic and long-term organic search benefits.
We understand that each client faces unique challenges when it comes to engaging the public, that's why we listen first and really get to understand our client before putting together a PR solution.
PR is about how the public relates to a brand or company. As such PR is happening all the time and isn't something any brand can afford to leave to chance.
Our campaigns harness the power of the media to move public sentiment in the right direction for our clients.
The way information is consumed has changed massively in the past 20 years and we have seen huge shifts since our launch in 2006.
The ubiquity of smart phones and social media means public sentiment can now spread exponentially meaning both good and bad news can impact brands very quickly.
This provides both huge opportunities and huge challenges for brands but PR remains the most effective way for business owners to steer perceptions of their companies in the right direction.
PR remains our core service but today all communication must be integrated to include elements of social media and SEO as well as media coverage and attention.
Our team ensure that client messages reach influencers and that all communications are joined up and effective.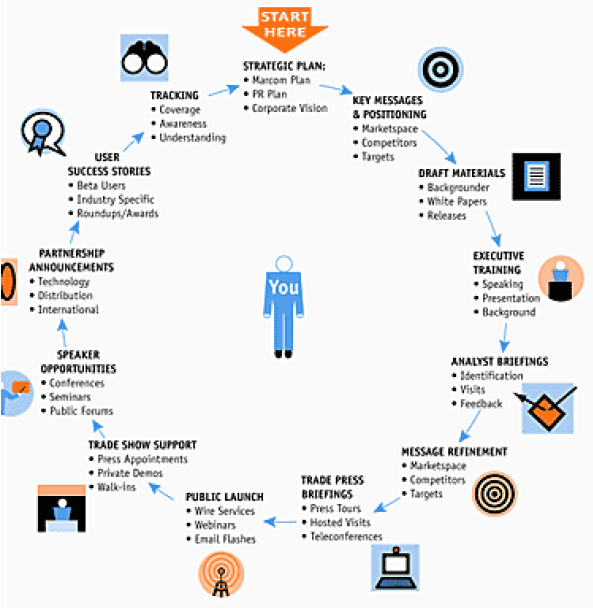 Digital PR
Having an online presence is now an essential – whether you're in the public, private or third sector, having an established place on the web has become a requirement for everything from marketing and advertising to recruitment and sales. But it can still be a challenge to navigate the complex world of websites and social media especially when competing against larger brands or more established competition. But the web does offer immense opportunities and has the ability to level the playing field and allow challenger organisations to find a large audience in a short space of time. EDS can help any organisation understand how to use the web better and help build an online audience or customer base from the ground up. We have the experience and understanding to build your profile, improve your reputation and produce meaningful results online, using a full suite of digital tools, video and social media.
Whether it's a targeted PR or lobbying campaign, or a longer term brand building and reputation management mission, EDS knows how to frame and deliver your message in the digital arena. We can assist you in building and operating digital channels, closing the gaps in your online presence, and making the connections that boost your reach.
Our digital services include:
Digital campaigns: designing and executing strategic and effective online PR campaigns, ensuring your messages are defined and effective
Social networking: helping you to widen your social networks online and target the most relevant stakeholders
Podcasts: creating radio audio, video, ePub or Pdf downloadable files for you to publish for your audience to absorb offline
Blogging: blogs are now a well-established means of communicating directly with the online community, and are a key way to publish your latest news, events, products, campaigns, stories direct to your audience
Digital Audit
We offer a digital audit service, to help you take advantage of the new ways of communicating. We'll assess your online presence and reputation, and offer you advice on improving both. We'll show you how to incorporate social media channels in everything you do, and explain how to seed conversations and influence opinion. In short, we'll make the digital world work for you.
Our digital audit will…
Assess your presence online, helping you understand the size and scope of the conversations and awareness of your organisation or campaign
Provide a plan of action, explaining how our team of digital experts will work with you to boost your current offering, mapping the key influencers
Execute that plan, engaging with key stakeholders online, providing targeted content, real-time online conversations, and digital community management
Our digital services are available individually, or as part of an integrated political lobbying and media relations campaign.
PR Services - Assignments & Retainers
Media Relations Programme's covering Press Releases, Media Interviews, Press Conferences, Media Monitoring and Analysis
Participation and Support at Conferences, Exhibitions and Relevant Events; Awards and Recognition
Content Creation – Research, Speeches, Press Material, Contributory Articles, Marketing Communication and Internal Communication
Media Training including Q&A, Briefing Notes
Original Events and Activation's
Risk Register and Crisis Communications
How We Add Value to Retainer Clients?
In-depth Understanding of their Audiences and Current Positioning
Developing Key Messages and Communication Plans that align with Business Objective This is a Workshop that is conducted in coordination with the Client to arrive at a consensus on the Key Messages to be Delivered and to Who.
Recommendations with a Calendar for Implementation
Defined deliverable's and results
#Digital Marketing, #Social Media Marketing, #Online Marketing, #Google Adwords, #YouTube Advertising, #InstaGram Advertising, #FaceBook Advertising, #Twitter Advertising, #Snapchat Advertising, #Search Engine Optimization, #Programmatic Marketing, #Lead Generation, #SEO, #Technical Tasks, #Social Media Influncers, #Mobile Marketing, #Ranking Analysis, #Fax Marketing, #WhatsApp, #LinkedIn, #Offsite SEO, #Video Shoot Production