A retail  business generally owned and operated by a retailer but sometimes owned and operated by a manufacturer or by someone other than a retailer in which merchandise is sold primarily to ultimate consumers.
SMS marketing & Mobile Marketing is hugely popular amongst retailers for staying in touch with customers. SMS marketing can be used to promote special events at outlets, shopping malls, shops and so on, and to inform customers of current and ongoing promotions, product launches, news, etc. SMS marketing is extremely easy to set up, and the cost of retail SMS is quite lower than for newsletters, printed materials, magazine or radio advertisements, with a very high ROI.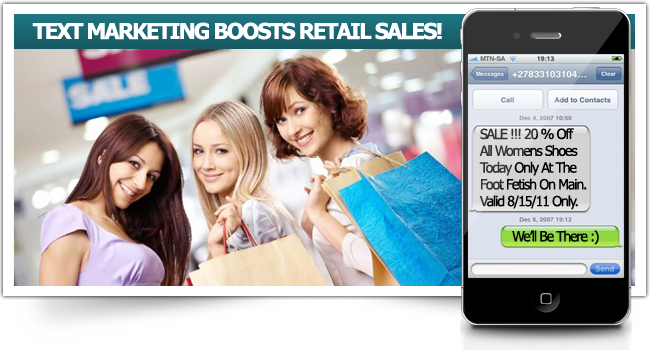 How can retailers take advantage from SMS marketing?
Promotions
Send messages to your customers, informing them know about special promotions or exclusive offers. Thanks to Bulk SMS, you can send up to 100k texts with just one click.
News, updates, useful information
Keep your contacts updated with news, useful information, special opening times or new product launches, creating a direct, effective contact channel via SMS.
Stock availability
If a client is looking for a product that's sold out, ask for their mobile number: when the product comes into stock, you can simply text the customer to let them know – it's much easier and cheaper than phoning them. Keeping your customers in the loop minimizes the risk of losing them to your competitors.
Improve customer service
You can also develop the SMS shops, SMS malls and SMS outlets channel to offer customer service: you can let them know when a product has been dispatched, or if there are any delays in delivery. Or text them to let them know your shop's opening times.
E-commerce
Send messages to confirm online purchases, or details for picking up goods.
BENEFITS OF BULK SMS IN RETAIL INDUSTRY:
Keep in touch with your customers:-
SMS marketing or bulk SMS messaging has proven so popular among retailers and small business owners because the service allows them to stay in touch with their customers, and send personalized text messages instantly. You will be able to promote a new product launch, advertise a new service, or inform your customers of a discount or promotion you are running. Own a hair salon? Advertise the store's new extended opening hours through SMS marketing. In charge of a small toy store? Keep your customers informed about your most sought-after products by sending a text. The possibilities are endless.
Cost-effective than other marketing campaigns:-
SMS marketing is both easy to set up, and cost-effective. Incorporating bulk SMS messaging into the marketing campaign of your business can cost significantly less than other more traditional forms of communication, such as radio or television advertising, newsletters, or a direct mail campaign. Create a direct and effective contact channel with SMS marketing; you can reach up to 100k customers by text, providing your recipients with a clear and concise promotional message in as little as 160 characters.
Increase customer response rate to your campaign:-
Studies show that customers are not only more likely to open and read your text message when compared with other forms of communication like email or direct mail, they are also more likely to respond. Just think about how many people in the UK own a mobile handset, and how many of those people take their mobile with them wherever they go. You will be able to communicate with your customers in almost any location, where they can respond to you when away from home or the office. And unlike email, where messages can end up in the junk folder and never even seen, bulk SMS messages will be sent direct to the recipient's inbox, and depending on the phone model and network operator, sometimes opened automatically.
Send highly targeted communication
Long gone are the days when business owners would send out text messages in the hope that the SMS would reach the targeted demographic of their store or business. Today mobile marketing campaigns are much more effective, and choosing which customers to tailor your promotional campaign to will be based on the marketing information you have previously collected. You will be able to send messages to those who have agreed to receive communication from your company, and to customers who have previously had some form of relationship with the business. This way, you will be sending messages to people who are likely to be interested, and more likely to respond.
For more information, kindly write a mail to info@edsfze.com or call us +971-4-5193444