UAE Population & Demographics 2019  Abu Dhabi, Dubai, Sharjah, Ajman, Fujairah, Ras al-Khaimah Umm al-Quwain

The United Arab Emirates is a country that is made up of seven emirates. Those are Abu Dhabi, Dubai, Sharjah, Ajman, Fujairah, Ras al-Khaimah, and Umm al-Quwain. While the country as a whole has a prime minister and federal president, each emirate has its own ruler that oversees the local governments. The UAE was established in 1971, and since that time, it has seen great population growth. Its largest city is Dubai, which has reached the one million resident milestone with a population of 1.1 million. This is the only city with a population exceeding one million. However, there are other cities within the UAE that have high population counts. The second most populous city, Abu Dhabi, has over 600,000 residents. There are four additional cities with populations that have surpassed 100,000. Seven cities have populations that are between 10,000 and 100,000, while remaining cities and towns make up the remainder of the population.
The majorty of people in the UAE live in urbanized areas. Just 14% live in rural areas and towns,while the remaining 86% live in the urbanized cities within the seven emirates. The UAE has seen a steady pattern of growth through the years, which is expected to slow down in the near future. Some experts also anticipate that the economy will be slowing down. Only time will tell how the growth of these major cities and the population that resides within them will change in the future.
United Arab Emirates has 1 cities with more than a million people, 5 cities with between 100,000 and 1 million people, and 7 cities with between 10,000 and 100,000 people. The largest city in United Arab Emirates is Dubai, with a population of 1,137,347 people.
Population and Demographic mix

The UAE has more expatriate residents than UAE nationals. The Government aims to balance the demographic mix between Emiratis and expatriates by 2021.
The UAE witnessed significant population increase during the past few years because of significant growth in the various economic sectors which lead to influx of workers from diverse cultural and religious backgrounds. From 4.1 million in 2005, the population of the UAE grew to 8.3 million by the end of 2010. Out of this, the number of UAE citizens is less than 1 million (947,947).
According to estimates by World Bank and Department of Census and Statistics of the United Nations, the UAE's population reached around 9 million in 2014; expatriates still outnumbering the Emiratis.
Statistics of the population in the two largest emirates in 2014 revealed that the number of residents of the emirate of Abu Dhabi was about 2.6 million (according to Statistics Centre – Abu Dhabi) and about 2.3 million in the emirate of Dubai (according to Dubai Statistics Center).
The UAE Government aims to balance the demographic mix between Emiratis and expatriates. Towards this, H. H. Sheikh Khalifa bin Zayed Al Nahyan, President of the UAE, had called for dedicating 2008 as the year of national identity, initiating official activities aimed at maintaining the country's national identity in an age of globalisation.
The President's call was in line with the strategic vision adopted by the federal government, which aims to promote and preserve the national identity of the UAE and launch initiatives that will maintain values of the community.
One of the KPIs set for maintaining a cohesive society and preserved identity to achieve National Agenda is National Identity Index. This composite indicator measures the sense of belonging and national identity of citizens. The index, as of 2014, stands at 90.8 per cent and is targeted to be 100 per cent by 2021.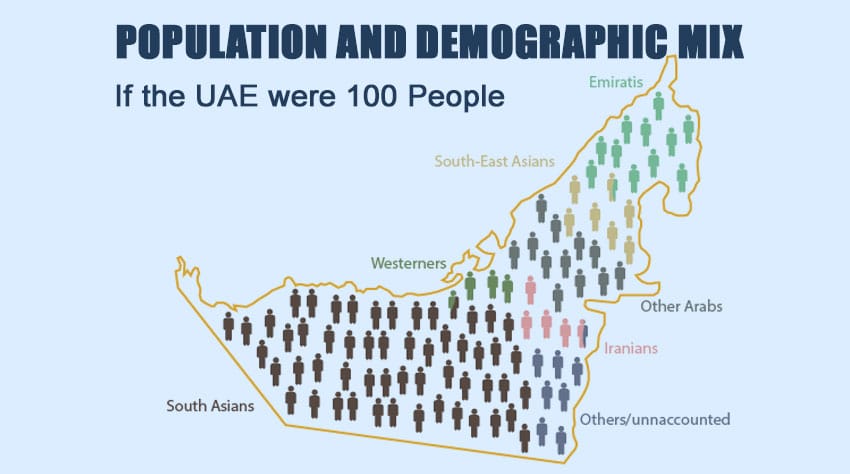 UAE Population Statistics by Year (Historical population)
| | |
| --- | --- |
| Year | Population |
| 2019 | 9.60 million |
| 2018 | 9.54 million |
| 2017 | 9.40 million |
| 2016 | 9.27 million |
| 2015 | 9.15 million |
| 2014 | 9.07 million |
| 2013 | 9 million |
| 2012 | 8.90 million |
| 2011 | 8.67 million |
| 2010 | 8.27 million |
Male vs Female Population of the UAE in 2019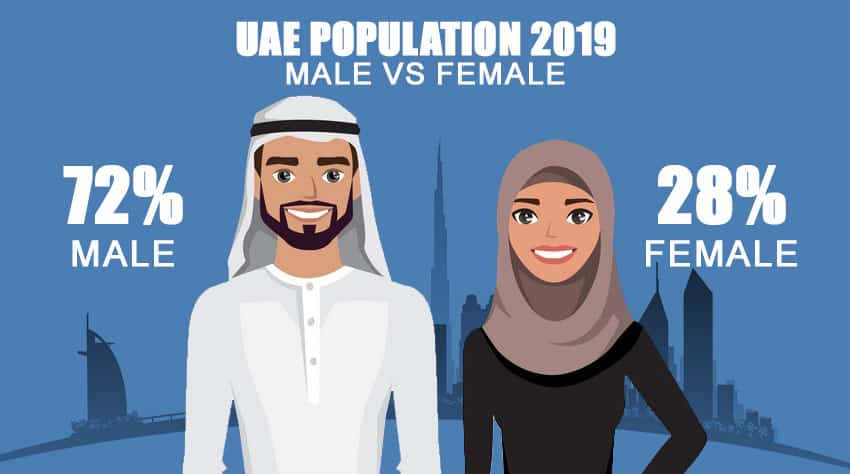 Age-wise Population of the UAE
| | | | |
| --- | --- | --- | --- |
| Age Group | Women | Men | Total |
| 0-14 years | 0.67 million | 0.69 million | 1.36 million |
| 15-24 years | 0.40 million | 0.81 million | 1.21 million |
| 25-54 years | 1.46 million | 4.83 million | 6.29 million |
| 55-64 years | 0.09 million | 0.45 million | 0.54 million |
| 65 years and over | 0.03 million | 0.11 million | 0.14 million |
Expatriate Population of the UAE in 2019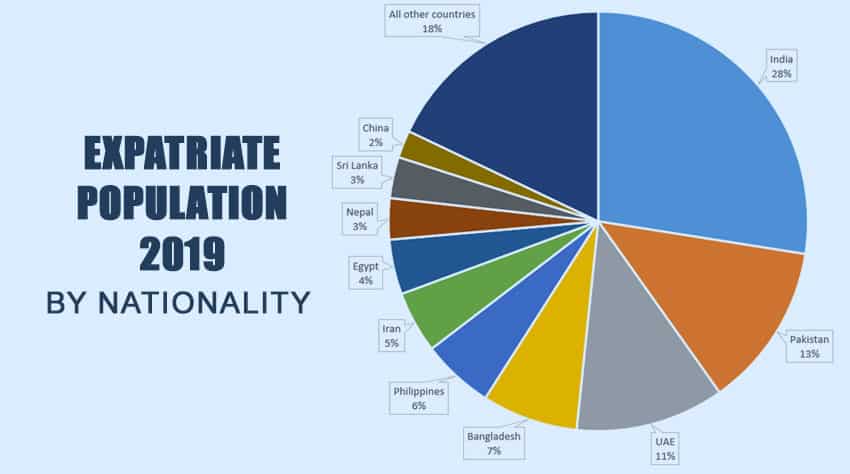 UAE Population by Nationality (Expat population of UAE in 2019 )
| | |
| --- | --- |
| Nationality | Population |
| India | 2.62 million |
| Pakistan | 1.21 million |
| Bangladesh | 0.71 million |
| Philippines | 0.53 million |
| Iran | 0.45 million |
| Egypt | 0.40 million |
| Nepal | 0.30 million |
| Sri Lanka | 0.30 million |
| China | 0.20 million |
| All other countries | 1.71 million |
| Total Expat Population | 8.45 million |
Most popular Social Media Platforms in the UAE

UAE'S FACEBOOK OBSESSION
As a nation, successive Government-led initiatives have led to the UAE transitioning to become an innately digital commercial landscape. Any doubts business may have as to whether the country is also increasingly social should be dispelled by the recent Facebook statistics:
Facebook has 136 million monthly users in the Middle East
93 percent of Facebook users access it on mobile
Facebook's number of active monthly users has tripled since 2012
The implications of these simple statistics are to reach, engage with, and attract an audience, businesses require a clear understanding of what people want, where they look online for that content, what point in the buying cycle they contact the brand itself, and the digital channels they hang out on.
However, a digitally engaged landscape demands a digitally attuned marketing strategy. Marketers need to match the digital literacy of their audiences. Be it by developing deep insights into their audience's digital habits and investing in the tools to track activity, and the expertise to analyze the data flows or by focusing on the areas of greatest interest to their target audience.
UAE'S LOVE AFFAIR WITH INSTAGRAM
Integrating digital B2B marketing campaigns with the broader organization pays dividends, improving both effectiveness and efficiency for corporate brands. Grasping this trend represents a key opportunity for B2B marketers in the UAE.
Instagram in the UAE grew from 38 percent in 2014 to 60 percent in 2016
Instagram has overtaken Twitter in the UAE
Instagram increased by 24 percent between 2013 and 2016
Instagram has revolutionized the way people share photos and videos, popularizing the customization of images with fun filters. In recent years, Instagram has proven to be an effective channel to put a human face on brands and make personal connections with followers.
MIDDLE EAST'S EMBRACE OF SNAPCHAT
Snapchat is a mobile photo-messaging app that allows users to take photos and short 10-second videos that remain viewable to recipients for approximately 10 seconds. Audiences are seeking real, personal, and in the moment content.
Snapchat in the UAE grew from 15 percent to 53 percent in 2016
Snapchat is about as casual as social media platforms can get. Followers are looking for color, action, and fun not carefully polished corporate content. The challenge for brands is how best to give it to them. Start with:
Highlighting special events.
Teasing new products and services
Pull back the curtain on your business
Audiences are looking for brief content to digest while during a short break in their day. Feed them brief content and they'll love your brand for it.
In the UAE with 97.48% of population using the Facebook social media platform.
In the UAE with 97% of people in UAE using WhatsApp.
According to Adwords insights, 80.92% of the UAE People (7.72 million) uses YouTube.
EMIRATE-WISE POPULATION

Population of Each Emirate in UAE (2019)
| | |
| --- | --- |
| Emirate | Population (2019) |
| Dubai | 3.33 million |
| Abu Dhabi | 3.23 million |
| Sharjah | 1.51 million |
| Ajman | 0.54 million |
| Ras al-Khaimah | 0.39 million |
| Fujairah | 0.25 million |
| Umm al-Quwain | 0.08 million |