Free Zones (also known as free trade zones) are designed for boosting international business through providing 100% ownership to expatriates and single window administration convenience. In UAE, freezones are either attached to ports or industry specific.
Setting up a business in a free zone is relatively easier. Free zone authorities require minimum paperwork and duration. Here are the key steps to set up a business in a free zone.
• Determine the type of legal entity
• Choose a trade name
• Apply for a business licence
• Choose an office space
• Get pre-approvals, register your business and get your licence
Determine the type of legal entity
Determine the type of legal entity your business would take up. In a free zone, you can set up one of the two types of companies:
• Free Zone Limited Liability Company (FZ LLC) or Free Zone Company (FZ Co.)
• Free Zone Establishment (FZE)
The differences lie in the number of shareholders and whether the shareholder is a natural person or a legal person. All free zones might not register both types of companies. You need to check with individual free zone authorities about the type of company they can register. Refer to the list of free zones and their authorities.
Freezones allows forming a limited liability company, which could be a newly formed entity with single or multiple shareholders or wholly owned subsidiary of local or foreign company.
Branches
Existing local and foreign companies may set up a branch of their company in free zones.
Advantages of Freezone
1. Allows 100% foreign national ownership of firm with no requirement of local sponsor or local service agent.
2. Waiver of corporate taxes (time-bound and renewable for further periods).
3. Exemption from personal taxes as well as import and export taxes.
4. 100% repatriation of revenue and profits.
5. Documentation is less and more suited to foreign investors.
6. Long-term leasing options (up to 25 years) available at great terms to investors.
7. Recruitment and workforce processes are simplified, faster and cheaper.
8. Easy availability of legal, housing, immigration, labour and other facilities.
9. Incorporation is faster than when done outside free zones
10. 100% free transfer of funds
List of free zones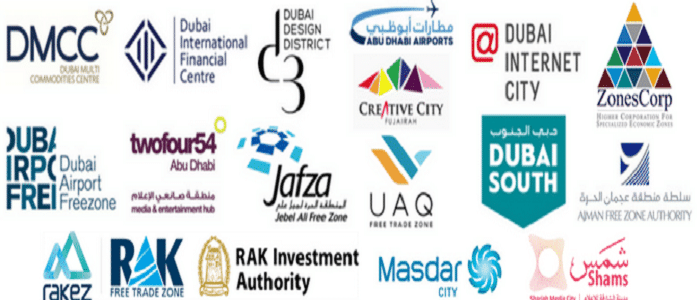 Dubai
Dubai Airport Free Zone
Dubai Auto Zone
Dubai Cars and Automotive Zone
Dubai Design District
Dubai Flower Centre
Dubai Gold and Diamond Park
Dubai Healthcare City
Dubai Industrial City
Dubai International Academic City
Dubai International Financial Centre
Dubai Internet City
Dubai Knowledge Park
Dubai Logistics City
Dubai Maritime City Authority
Dubai Media City
Dubai Multi Commodities Centre
Dubai Outsource Zone
Dubai Science Park
Dubai Silicon Oasis
Dubai Studio City
Dubai Techno Park (New name: National Industries Complex)
Dubai Textile City
Energy and Environment Park
International Humanitarian City
Jebel Ali Free Zone Authority
Jumeirah Lakes Towers Free Zone
Dubai Production City
Abu Dhabi
Abu Dhabi Airport Business City
Abu Dhabi Global Market
Abu Dhabi Ports Company
Higher corporation for specialized economic zones/ ZonesCorp
Industrial City of Abu Dhabi
Masdar City
TwoFour54
Sharjah
Hamriya Free Zone Authority
Sharjah Airport Free Zone Authority
USA Regional Trade Center Free Zone
Fujairah
Creative City Fujairah
Fujairah Free Zone Authority
Ras Al Khaimah
RAK Investment Authority Free Zone
RAK Maritime City
Ras Al Khaimah Free Trade Zone
Ras Al Khaimah Media Free Zone
Ajman
Ajman Free Zone Authority
Umm Al Quwain
Umm Al Quwain Free Zone Authority