LinkedIn Company page helps you to improve your business. Below are the points which you can follow to increase your LinkedIn Followers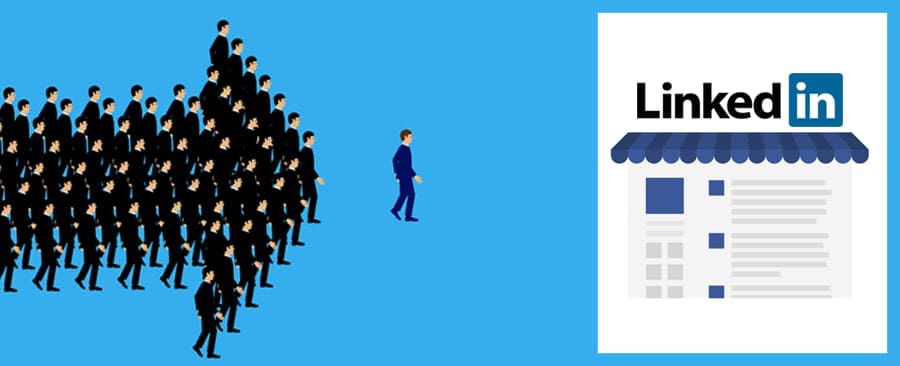 1. Add LinkedIn "Follow" Button to your website
Adding A LinkedIn "Follow" button on your website and blog will make it easy for people to follow you on LinkedIn. Preferably add this follow button at the footer of your website which will repeat all the pages of your website. Not recommended to add at the top of the page script as it will effect loading speed.
2. Engage your employees to join LinkedIn and ask them to add your company as their workplace.
Encourage your company employees to create and complete LinkedIn profiles – once they include your company name, they automatically become followers of your Company Page. Encourage them to create and complete LinkedIn profiles – once they include your company name, they automatically become followers of your Company Page.This will help to drive more traffic to your page.
3. Promote on other social media pages
You could ask your Twitter followers or Facebook fans to follow your LinkedIn page. Give them the link and add an attractive call-to-action. This can increase your LinkedIn Followers
4. Take part in LinkedIn groups
Joining in LinkedIn groups is an effective way to highlight your Company Page and attract more followers. You can launch your own discussions, or you can contribute to popular discussions that other members have created. Join groups that are relevant to your business and actively participate in discussions by sharing your insights and thoughts so that people get to know you and will be tempted to check out your profile and page.
5. Always Try to include images in your page posts
Adding good Images will attract more attention leading to increase your LinkedIn Followers and visibility.
6. Promote your company page outside
Add a link to your page in company communications like mails, emails, newsletters etc. Invite other people such as your customers and key audiences to follow your page.
7. Engage with followers and connections first
There is no point in trying to get more followers if you're not engaging with your already existing followers and connections. Start by regularly liking and commenting on other people's posts and sharing them.
8. Analyse your LinkedIn analytics and optimize your content for maximum traffic
Check your LinkedIn analytics to know which kind if posts attract more audience and optimize your content accordingly to get more engagement and maximal Traffic.
9. Share YouTube videos in your posts
Add links to YouTube videos in your posts. According to LinkedIn, followers who engaged with such posts take "twice as many amplification actions (likes, shares, and comments)" as they do with posts without videos.
10. Use your full company name as your LinkedIn page name
This will help people to find your page when they search for it using Google Search or on-site search.
11. Share your company news on your LinkedIn page
According to LinkedIn, a huge percentage of LinkedIn members are interested in company news.
12. Add post on your page at least 20 times in a month
LinkedIn study found that Posting quality content regularly will keep your followers interested and will bring in new followers.
13. Post useful and quality content
Add posts which are useful and quality content to your company page before you ask people to follow so that they find it enticing enough to follow it. Then regularly keep sharing interesting and useful information, updates and links on your page to keep them interested.
14. Ask your employees to engage with your company page content
Such activities on your page will gather the interest of people who visit your page.
15. Always Fill out your complete company profile
LinkedIn gives more preference to companies with complete profiles in their on-site search.
16. Add more attractive cover image or logo to your LinkedIn company page
This will always help you to capture the attention of visitors.
17. Try to post your updates during busiest hours
LinkedIn's busiest hours are in the morning and midday from Monday to Friday. This will ensure your post to get maximum reach.
18. Add links in your page posts
Include links in your LinkedIn page posts wherever possible because posts with links generate more traffic compared to posts without links.
19. Optimize your LinkedIn page for search engines
Include relevant keywords in your description and in your posts (especially longer, content-heavy posts that tend to do well in search).
20. Add multiple admins to your company page
Assigning multiple admins, they can split the content creation and other work for various products and/or lines of business. Encourage them to post engaging content on the page regularly and share it with their connections.
21. Focus on trending topics for content
Adding posts on trending topics will attract more clicks. You can look up popular topics on social networks such as Facebook, Reddit etc.
22. Post content what Linked members are interested in
Try to know what members are interested in and they engage. So, you can get more amplification to your posts
23. Post regularly
Try to add post regularly on LinkedIn Pulse to get more visibility.