Use of Voice Search
A lot of people around the world are using voice search on their mobile devices especially youngsters, and more than 450 million voice assistant devices have been sold. Now there are a variety of voice-activated technologies in the market (e.g., Microsoft Cortana, Amazon's Alexa, Google Assistant, Apple Siri and Samsung Bixby).
The Benefits of Voice Commands for Search
As voice recognition technologies are becoming more versatile and accurate, users are beginning to realize the benefits of using the voice commands to search what they want.
According to Google research, These are the top reasons why people use their voice assistance devices:
It allows them to more easily multitask.
It allows them to do things quicker than other devices.
It empowers them to immediately get answers and the required information.
It makes their daily routine easier.
How Voice Search Works
Making a voice search on Google is just as easy and fast as doing a typed search. All you have to do is to simply tap the microphone icon on the search bar, and then you're ready to say what you want to search.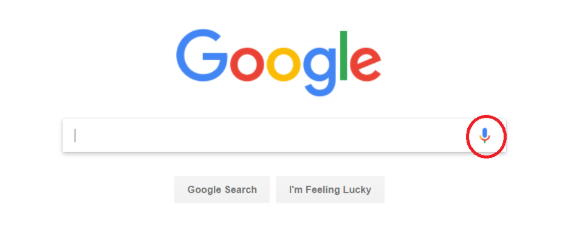 Once you have tapped on the icon, Google will give you a few seconds to speak and give your inquiry. It is good if you make sure that your voice would be heard clearly through the microphone to see the most accurate results.
Voice searches are a great feature when you are cooking and need to check a recipe but your hands are covered in flour. It's also a popular hands-free way to get local business information or map location while driving.