Both Google Adwords & Facebook ads are two completely different marketing tactics. Google Adwords is important for displaying ads in Google Search, whereas Facebook ads are important for Social engagement and directing traffic to your site from Facebook. They are both used for very different purposes.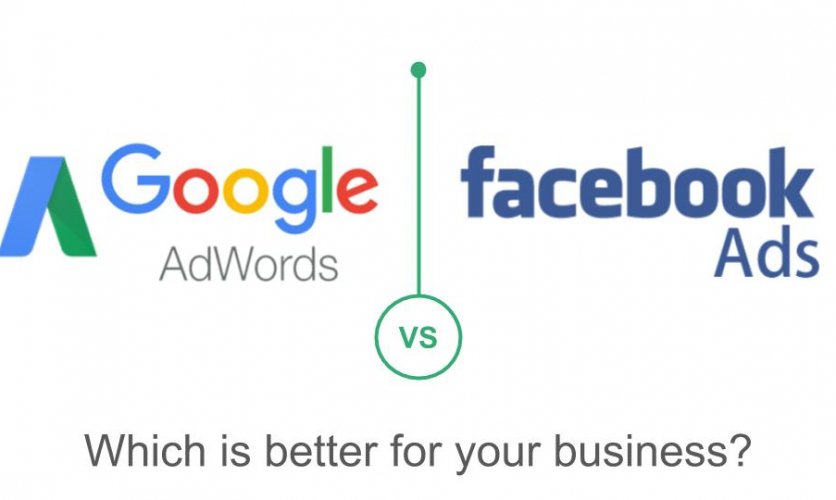 Facebook Ads are great for hyper targeting, and retargeting (finding similar audiences), to reaching your target audience; these ads can be more likely to convert into a sale because they can be put in front of the "right" people. They are also usually less expensive than Google Adwords. These ads can help direct traffic to your site, or help boost overall social engagement and promotions – but it is specific to Facebook.
Google Adwords helps display you at the top of a Google search result for a specific set of keywords. However, this can be very costly depending on your industry, and the specific keywords you are trying to target. Google ads display at the top of a search result, and are more likely to get clicked, and this adds credibility in the search results (especially when you have great SEO for your business) because now you will essentially take up more Google "real estate" – meaning you appear in the top ad space, the map pack, and the organic listings.
If you have the budget for it, you should absolutely pursue both options, as they both provide their own unique benefits. However, you should always include other marketing strategies such as SEO, email marketing, and other social media & search engine marketing channels to make the biggest impact.
Overall, it really depends on what your current goals are in terms of advertising. Is it to spread awareness? Direct traffic to your site? Promote a product or service? Knowing what your specific goals are will help determine what specific marketing channel to focus on.