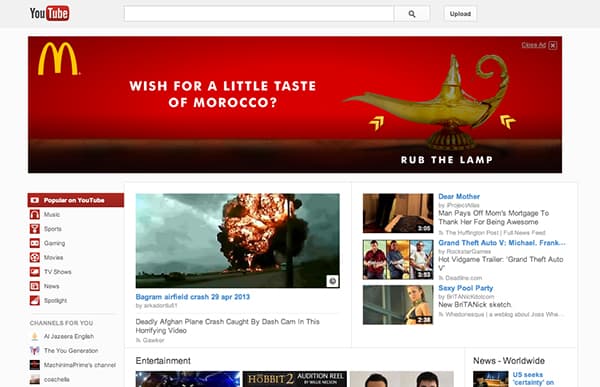 YouTube Masthead is similar to advertisement on billboards. But it is on YouTube. It facilitates advertisers the highest reach and awareness on the YouTube Homepage. Those who are looking for highest reach must try YouTube Masthead. It's a banner displayed on YouTube homepage for 24 hrs. It's one of the components of YouTube Marketing.
Main benefits of Mastheads are –
Your brand exposure to wide range of audience across a huge range of demographics
Visible for continuous 24 hrs to all
Creates brand awareness and enhances brand activity on YouTube as well as on website.
Main Types of YouTube Mastheads:
In-house Build ­ IHB Masthead: for this size is basically 970×250 unit, this can be used using existing templates and in short execution time.
Standard ­ Custom Masthead: more or less same as IHB with ample room for creativity and customization. It's like a Blank canvas.
Dynamic­ Custom Masthead: it's a customized format which can handle rich mastheads and can also the text, images, destination URL and video.
Based on the device, there are 2 broad categories:
-YouTube Masthead – Desktop
-YouTube Masthead – Mobile
Below is the preview of YouTube Masthead Advertising:
https://www.youtube.com/yt/videomasthead/
Main drawbacks of YouTube Masthead:
Expensive affair….it you have low budgets, don't think about it
No specific targeting of users.
Rachna Agarwal
Social Media Expert
Board : +971-4-5193444
PO Box: 64138, Dubai, UAE
E: rachna@edsfze.com